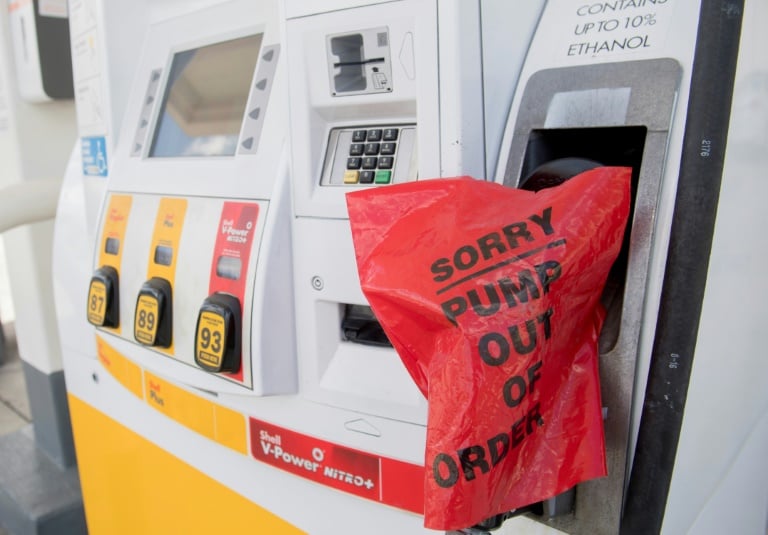 The only way to drive out of the Florida peninsula is northward, and motorists leaving Miami have found many gas stations cordoned off with yellow tape, signaling they were closed due to lack of fuel.
Lines of cars, some more than a dozen deep, snaked around those that remained open. Often those lines jutted into the main roadways, causing traffic to pile up.
"People are freaking out," said Yasmine Herrera, a hair stylist who works south of Miami.
She told AFP she had heard rumors of fights breaking out at gas stations, and experienced a tense standoff herself when two drivers blocked her in at a pump, each wanting to fill their tanks after her and each refusing to yield and allow her to exit. Eventually, one relented.
The governor acknowledged "issues" with fuel and said he had asked the White House and Federal Emergency Management Agency (FEMA) to waive rules and regulations in order to get as much fuel as possible into the state and ports.
He also called on state law enforcement to provide escort services for gas trucks.
Traffic bottlenecks

Traffic has started to pile up on main highways, as cars heading north bottleneck near the larger cities, including Miami, Fort Myers and Sarasota.
Elderly residents, those in small hospitals and people living in mobile homes were among the first to be evacuated.
"Leave now. The roads are going to get worse the longer you wait," warned Governor Scott.
He urged people to use apps like GasBuddy and Florida511 to check for open fuel stations and traffic conditions.
Highway patrol and National Guard Officers would do all they could to keep roads open, even allowing motorists to drive on the edges if need be.
Scott said the utility giant Florida Power and Light would close its Turkey Point power plant, where twin nuclear reactors operate, "at some point."
FPL said Hurricane Irma's size and strength suggest that "much of Florida could be impacted by this major storm, resulting in extended power outages," according to an email sent to customers.
"We are preparing for the possibility of having to rebuild our electrical infrastructure in the worst hit areas."